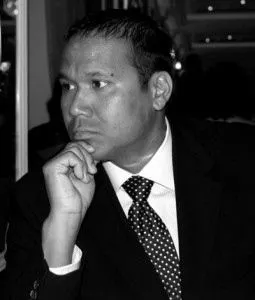 Raymond S. Vicente, DMD
Dr. Raymond S. Vicente was born in California and later moved to Charleston, South Carolina at the age of 9. From there he left South Carolina and moved to Puerto Rico for a few years and then finally returned 'home' to Charleston. He is the son of Offero S. Vicente, who proudly served 23 years in the United States Navy, and Mildred Vicente, both of Ilo Ilo, Philippines.
Since moving back to Charleston on his father's last U.S. naval deployment, Dr. Vicente has been a local "Charlestonian" growing up and attending schools in the state of South Carolina. He attended the College of Charleston and graduated with a Bachelor's Degree in Biology. He then continued on to pursue his career in dental medicine and attended the Medical University of South Carolina.
After receiving his doctorate from MUSC, Dr. Vicente founded the Northside Family Dentistry practice in North Charleston and was able to see the level of dental care that was not being provided to the community. In 2003, Dr. Vicente joined the National Health Service Corps rendering treatments in all aspects of dentistry which consequently restored and maintained oral health in the patient's best interest. His commitment to serving the underprivileged extended also into providing more than fifteen thousand in pro bono care for patients of the Catholic Charities Diocese of Charleston since 2010.
Dr. Vicente is a respected member of the community maintaining professional memberships with the American Dental Association, South Carolina Dental Association and Charleston Dental Society.
Beyond being an accomplished practitioner, Dr Vicente is also the father of three beautiful children, Tanner, Kai and Alexandria. In his free time, Dr Vicente and his wife, Jennifer, enjoy surfing, spending time at the beach with the family, and love to travel abroad. As a past avid soccer player, he also spends time coaching soccer at the Summerville Soccer Club and for the Pinewood Preparatory recreational team.